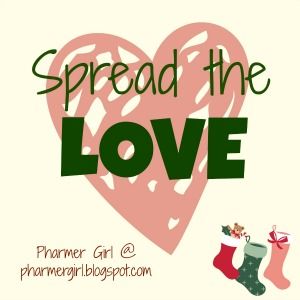 The day has come for the much anticipated link-up party.
The link up is at the bottom of this post :)
One of my acts of kindness for the link up party was writing letters to the residents at one of my rotations. My last rotation before the break was at a long term care facility for veterans in Truth or Consequences, NM. Now I had been to this location before and had gotten to know most of the residents pretty well already. Since the rotation was before Christmas, I decided to write Christmas cards to all the residents. I am talking about over 125 cards thats were delivered at mail call the week before Christmas. Unfortunately, I was gone when the letters were passed out, but I am sure that they were enjoyed even if it was only for the 2 seconds while they read it.
I also did the typical, donating food to a homeless person standing at an intersection in town, but mostly I just tried to be more kind and considerate in general. Whether it was holding the door for that continuos line of people rushing in the mall for last minute shopping or letting the person with 3 items check out in front of you at the store. It was nice to make more of an effort to do all the little things that we should be or are doing all year for people. It is certainly something that I want to continue out the year doing and bring into the new year.
Parents
My parents are both teachers at a small school (I am talking 57 kids from Pre-K to 12th grade) in Eastern, NM. Well the Pre-K students made gingerbread men that mysteriously went missing from their classroom. So my Dad agreed to take the bullet and pretend to steal the gingerbread men and made a big ordeal about it razzing the little ones. I guess their teacher had told them, that if they bake more then theirs would come back. Of course they couldn't leave the little ones hanging, so they made giant gingerbread men for the little ones. Just as the story goes, as soon as the new men were baked, theirs returned--a happy ending for all.
They also shared that their kindness has been repaid to them as well. One of their sweet little 8th grade students remembered that my Dad liked chocolate covered cherries and that Mom liked Almond Joy so she paired each of those with a sweet hand written note. I love hearing about people sharing their kindness, especially young ones.
Laker Lover and her family
Laker Lover and her family have been busy being Santa's little elves. They did several acts of kindness including: buying Starbucks for the car behind them, making food baskets for families and wrapped up gifts for children in need in their hometown. She said it was really sad seeing all the families that were not as fortunate as her family, but it really helped to remind her of how blessed they are and how much she enjoyed being able to give back.
I can't wait to hear about yall's Acts of Kindness!