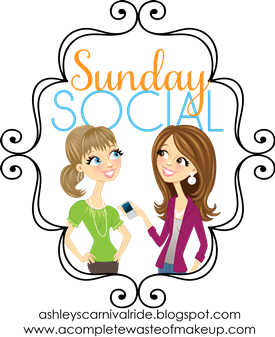 Ok y'all today we are linking up with Neely & Ashley for Sunday Social Week.
Favorite TV Show of the Past?
Friends: This is an oldie, but a goody! A true classic in my opinion. Each character has their own uniqueness that brings this group of friends together and made the tv series successful for several years. No matter who you are, you were able to relate with one of the characters at some point or another.
Desperate Housewives: I started watching you from day one and even though you are like a night time soap I sure did enjoy you. Wisteria Lane is sadly going to be missed.
Favorite TV Show Currently?
That gets a little more tricky....
The Big Bang Theory: for anybody who has seen the Big Bang Theory just saying Sheldon should be enough said. Having a science mindset I really enjoy this show. Sheldon absolutely cracks me up.... BAZINGA!
Whitney: this is another new favorite. Whitney is slightly inappropriate, hilarious, loud, and one of a kind. Y'all need to check her out if you haven't already. She is a good time!
How I Met Your Mother: is another one of my original favs. I have been watching this one since the beginning as well. However I seriously doubt I will ever get to actually see Ted's wife, but Barney makes the show LEGEN.... I hope your not lactose intolerant....DARY!
NCIS: has been one of my favorites since it started. Abby is by far my favorite part about that show, but between the rest of the crew you can't help but love it.
Smash: is my new love. I am usually not a musical fan, but I sure have liked the opening season. Katharine McPhee is slowly becoming one of my favs.
What Reality Show Would You NEVER Do?
Bachelor or Bachelorette: Personally I think these shows are a load of crap. I mean who honestly believes that they can go on tv with 30 guys or so find true love? Also look at the places these shows are done at. Who the heck wouldn't "think" they were in love in all those fancy vacation spots. Well lets just say it is not for me.
What Reality Show Would You LOVE To Do?
The Amazing Race: even though I never really watch it. I mean who would say no at the opportunity to travel the world? Well not this girl!
TV Character/Personality That You Feel is Most Like You?
Well my family and friends seem to think I remind them of Whitney Cummings. Considering she is pretty hilarious I would most certainly call it a win.
TV Character You Would Want To Date?
Josh Duhamel from Las Vegas or any of his movies or him in real life would be fine with me. I mean just look at that face, hello gorgeous. That Fergie is a lucky woman.
I hope all you beauties are having a terrific Sunday!